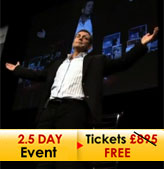 Wealth Propulsion Seminar FREE tickets
Australia and New Zealand
May 7-9, 2010 (Fri-Sun)   Sydney
May 28-30, 2010 (Fri-Sun)   Dublin
July 23-25, 2010 (Fri-Sun)  Brisbane
July 30 – Aug  1, 2010 (Fri-Sun)   Melbourne
Sep 3-5, 2010 (Fri-Sun)   Auckland
Sep 24-26, 2010 (Fri-Sun)   Perth
Oct 8-10, 2010 (Fri-Sun)   London
Are you are tired of not having money in your life? Are you done with not being able to do things that you want to do or to afford the things that you really want to have in your life?
If you are absolutely committed to have a huge breakthrough – get your FREE tickets to Wealth Propulsion seminar and learn the greatest wealth building strategies. Make the kind of money you truly deserve and have a lifestyle you want.
"This Is a Time of the Tremendous Opportunity.
I Know How Important Is to Train Your Mind to Recognize the Opportunity No Matter What's Happening in the World."
Christopher Howard