Sir Richard Branson, Tony Robbins and Lord Alan Sugar – London Seminar
Gold, VIP, Diamond Tickets
July 2-4, 2011 (Sat-Mon) London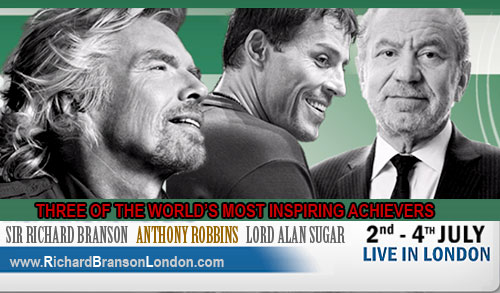 Sir Richard Branson, Tony Robbins and Lord Alan Sugar – 3 of the world's most inspiring achievers – are all appearing live in an unprecedented World-Class Achievers program. You'll hear from experts and specialists from all corners of the globe – each with unmatched track records in their fields.
Some of what you'll discover over these 3 unforgettable days:
- Raising your standards and goals to the next level and how to get there
- Recognising and acting on opportunities for success as soon as they appear
- How elite business leaders create and protect their sustainable wealth
- Sir Richard Branson's Golden Rules for the entrepreneur – his personal system for success
- Tony's strategies – how to access your peak potential for achievement
- Alan Sugar's tough, proven strategies for beating the downturn and escalating growth
Other speakers: T. Harv Eker, Blair Singer, Robert G. Allen, Greg Secker, Tom Hua, John Lee, Andy Harrington, Adam Ginsberg, Kervin Rae.
Reserve your seat for an event that will transform YOUR life forever.
Gold, VIP and Diamond tickets available.
Get your tickets today for best seats, lunch both days with key speakers, Richard Branson Cocktail evening and much more.
Recommend this Event to your Facebook friends

Richard Branson is the author of the books "Losing My Virginity: How I've Survived, Had Fun and Made a Fortune Doing Business My Way" (Crown Business, 1998), "Screw It, Let's Do It: Lessons in Life" (Virgin Books, 2006), "Business Stripped Bare: Adventures of a Global Entrepreneur" (Virgin Books, 2008).

"Everyone needs something to aim for. You can call it a challenge, or you can call it a goal. It is what makes us human.
It was challenges that took us from being cavemen
to reaching for the stars. "
Sir Richard Branson