Richard Branson, LAlan Sugar, Tony Robbins – London 2-4 July 2011 Seminar
July 2-4, 2011 (Sat-Mon) Excel London Exhibition Centre. VIP & Diamond Tickets SOLD OUT
Limited number of GOLD tickets available.
Learn how to become rich and successful, meet Richard Branson, Alan Sugar, Anthony Robbins and other millionaires, get your tickets for a life changing event at the National Achievers Congress in London this weekend.



Other speakers at this event:
T. Harv Eker
Blair Singer
Robert G. Allen
Greg Secker
Adam Ginsberg
Tom Hua
John Lee
Andy Harrington
Kervin Rae
Simon Coulson
Kevin Green
Joseph McMendon III
Marty Sanders
Reserve your seat for an event that will transform YOUR life forever.
Don't miss your LAST CHANCE to get tickets before they sell out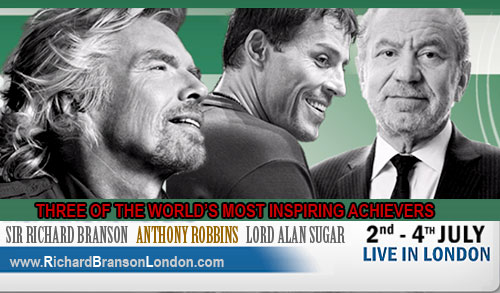 You may never again have an opportunity like this to build such an arsenal of tested and proven strategies geared toward achieving your own Ultimate Success.
Recommend this Event to your Facebook friends


"Once you decide to work for yourself, you never go back to work for somebody else."
Lord Alan Sugar