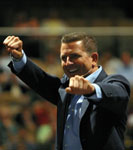 Breakthrough to Success FREE Tickets – click here
June 25-27, 2010 (Fri-Sun)    London
Nov 5-7, 2010 (Fri-Sun)    Dublin
What if you could breakthrough any obstacles or limitations, and achieve unlimited success today? Starting today, you can take charge of your life and get the results you deserve in any area of your life.
In a 3-Day Breakthrough to Success Weekend, Christopher Howard will teach you how to eliminate daily stress and frustrations, instantly boost your confidence, get the results and transformations you want, increase the amount of money you make and achieve every goal you set in your life easier and faster.
Reserve your seat for an experience that will transform YOUR life forever.
Get your FREE tickets to Breakthrough to Success Wealth and Power seminar now!
Christopher Howard has been educating tens of thousands of individuals and businesses Worldwide. He is the author of 7 best selling audio programs, author of the books "Turning Passions Into Profits: Three Steps to Wealth and Power" and "Instant Wealth-Wake Up Rich!: Discover The Secret of The New Entrepreneurial Mind"


"Problems That People Have Are Problems of Imagination.
Ordinary People Make Extraordinary Decisions in Life"
Christopher Howard