Property investment with no money is one of the most attractive ways to create wealth. Following the credit crunch in 2008, the rules of investing in property have changed.
Buying and trading properties without paying any deposits is the safest and most rewarding way to invest in property. Is it easy? Not if you are starting out. It will it require some work, a little dedication and the right knowledge, but it is simple to follow a proven system that has succeeded before you.
"A Step by Step Guide to Lease Options: No Mortgage, No Deposit, No Problem!", published in 2009, is the first book in the UK that teaches people how to invest in property without using a deposit or a mortgage.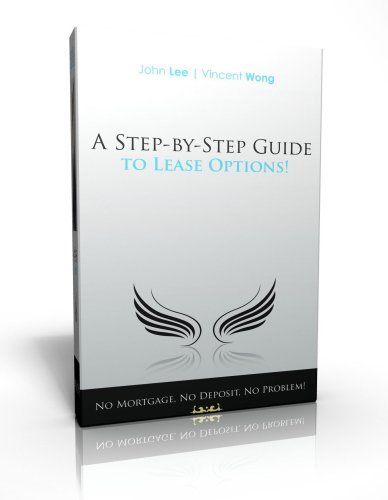 Table of Contents
Part 1 : Weighing Up Your Property Options
Chapter 1 – Understanding How Property Deals Work
Chapter 2 – Taking Control of your Property Deals
Chapter 3 – Looking at Property Options Step by Step
Chapter 4 – Power of Property Options in Action
Chapter 5 – The Legals have Landed
Part 2 : Property Option Strategies
Chapter 6 – How to Find the Deals
Chapter 7 – Structuring the Deal
Chapter 8 – Closing the Deal
Chapter 9 – Advanced Strategies
Chapter 10 – 12 Steps to a Successful Option Deal
Part 3 : Property Option Knowledge
Chapter 11 – Sample Property Option Documents
| | |
| --- | --- |
| | |
| £249.00 (Paperback, free delivery, UK only) | £7.00 (Digital download, PDF ) |
| Only 8 copies left | |
"A Step by Step Guide to Lease Options: No Mortgage, No Deposit, No Problem!" (John Lee, Vincent Wong)
Paperback: 118 pages
Publisher: Wealth Dragons Ltd
Published in United Kingdom; first edition edition (9 November 2009)
ISBN-10: 095638952X
ISBN-13: 978-0956389527
Dimensions: 20 x 12.8 x 1 cm
"Step by Step Guide to Lease Options No Mortgage, No Deposit, No Problem!" was one of the best-selling lease option books in United Kingdom in 2009. The dramatic slump in property prices in 2008 and early 2009 came as lenders turned off the mortgage taps. Lenders suffered a lack of funding, with the mortgage backed securities market that accounted for two thirds of new lending suddenly seizing up.
We have a few copies in stock, however we can not guarantee that information in this book is up to date. The book was published 6 years ago. No returns accepted.
Anatomy of a house price slump: how it happened